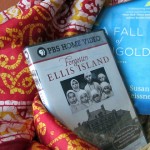 CONGRATULATIONS to Susan from Odessa, Texas! Susan's entry was the one picked by random.org's number generator for the the grand prize  gift basket for the FALL OF MARIGOLDS blog tour. There were nearly 450 entries! Thank you to all these blogs and to you, dear reader, for coming along on this fun journey. I hope you enjoyed it as much as I did and that even if you didn't win a copy of the book, you will get your hands on it and give it a read.  I would love to hear back from you and I always appreciate your reader reviews on online sites like Amazon, Barnes and Noble, and GoodReads. If you would like to see who won the individual copies of the book, most of the blogs have posted their winners in their comments sections.
A FALL OF MARIGOLDS BLOG TOUR
February 4
Girls Write Out
February 5
The Writer's Alley
February 7
Chick Lit Central
February 11
Erika Robuck Blog
February 12
A Novel Review
The Book Fetish
February 13
Mocha with Linda
February 14
Julie Valerie's Book Blog
Mary Vee's Blog
February 17
Writing for Christ
February 18
Robin Lee Hatcher Blog
February 20
Southern BelleView
February 21
Cara Putman Blog
Rachel Hauck Blog
February 24
Marybeth Whalen Blog
Betsy St. Amant Blog
Novel Matters
February 26
The Book Wheel
Whether you're here to get to know me a little better, find out more about my books, or to see what's new in my writing life, I'm glad you're here! If you're a member of book club, please check out the For Readers page I have just for you.
My latest book, A FALL OF MARIGOLDS, hit bookshelves everywhere on February 4th! You can learn more about the book here as well as buy a copy.
This story will take you to the halls of Ellis Island's Hospital in 1911, as well as the streets of Manhattan in the present day. It's story about love, and the wonderful, aching truth that while it hurts to lose it, love can find its way back to us if we don't close our hearts to it.
Kirkus Reviews had this to say about this new book: "Meissner is a practiced writer whose two main characters cope with universal themes that many people deal with: loss, survivor's guilt, and permitting oneself to move on and achieve happiness again . . .the author creates two sympathetic, relatable characters that readers will applaud. Touching and inspirational."
Enjoy!

"Meissner's prose is exquisite and she is a stunning storyteller."
Publishers Weekly